The PADI Open Water Course
Take This Course If You Want to:
Explore the other 70% of our planet

Support ocean protection

See things you've never seen before

Learn with the best PADI Centre and Instructors

Get the world's most recognized scuba certification

Train in a heated pool
Learn How to:
Be a confident, comfortable and skilled diver

Assemble and use scuba gear properly

Manage your buoyancy properly

Respectfully approach marine life

Handle common Scuba problems
Why PADI Open Water?
As a certified PADI Open Water Diver you will have the most widely recognized and respected scuba rating in the world. You will have the freedom to dive with a buddy independent of a professional up to 12 meters (10 - 14 year olds) and up to 18 meters (15 year olds and up), ANYWHERE IN THE WORLD!!!
What do I need to start?
Virtually anyone who is in good health, reasonably fit, and comfortable in the water can earn a PADI Open Water Diver certification. For kids between 10 - 14 years old there is a PADI Junior Open Water Diver program available.
The Scuba Gear You Use
You'll use all the basic scuba gear and some of it may be included with your course. You may want to invest in your own mask, snorkel, fins and wetsuit since these personal items are a lot more fun to use when they fit properly. A Buoyancy Compensating Device (BCD) that holds your cylinder, a Regulator that delivers air, a Weight System and Submersible Pressure Gauge (SPG) to monitor depth and air supply will also be used.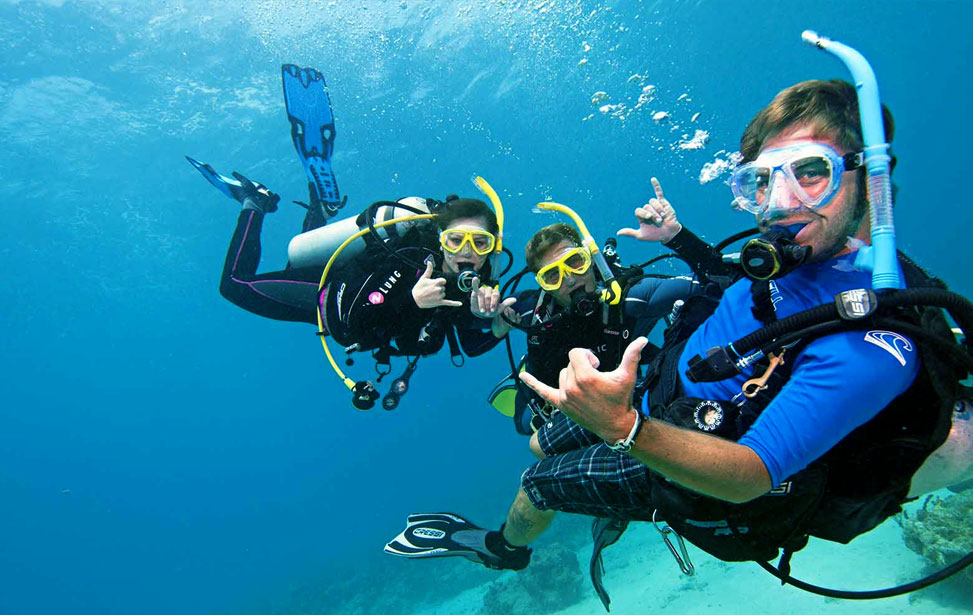 How is the course structured?
You will need to obtain your PADI materials first, either online (you can buy that here!) or physical materials from our dive centre and complete the 5 necessary knowledge Development sections.
You will need roughly four days in total (normally two weekends) to complete the course. The first weekend (two days) will be at our Dive Shop in Pretoria in our on-site heated and enclosed pool. The second weekend will be at Miracle waters (in Brits), Sodwana Bay, Aliwal Shoal or Mozambique for your qualifying dives. Depending on which you choose!
The course consists of three parts:
You will start with self-study using your PADI Open Water manual and video. You will get this in either your PADI Open Water Ultimate Crew pack or you may choose to do this using the PADI online E-Learning,
The crew pack contains your own logbook to record your training dives and future fun dives for after your qualification, as well as a multi-level electronic dive planner (e-RDPml) code and a Dive computer simulator access card. For those that prefer working online, the PADI e-Learning option will give you access to your PADI material on your phone or laptop. Dive logs will also be on the PADI app.
Once you are done with your homework, we will get you ready for the Open water dives by throwing you into the deep end (of the pool of course!) and start with your pool training dives! This is the bit where you physically learn how to dive and handle any problems that might come your way whilst diving. Once you are confident you will then move to the third part of the course, where you will do your qualifying dives in your in your destination of choice.
You are required to complete 4 dives with a certain skill set on each dive - these dives may be done locally or be completed at the coast (or even in another country, if you choose the referral option!) we strongly suggest doing the dives locally at our favorite quarry and then to join us on a coastal trip! This way you get to dive with your instructors a little longer and also get a proper orientation into some new dive sites as well as feel a little more comfortable!
HOWEVER, if for some reason you are unable to successfully complete the PADI Open Water Diver Course due to time restraints, physical restrictions or theory do not fear as you can earn the qualification of a PADI Scuba Diver, but it does have a few restrictions to learn more about the PADI Scuba Diver.
Please note the following!
Medical requirement.
The Medical Statement HAS to be completed and signed! – a "YES" anywhere on the form requires you to seek a Medical Doctor's advice as well as a letter from the doctor stating that you are "medically fit to Scuba Dive".
You WILL NOT be allowed to enter the water if this requirement is not met!
You may choose to do your qualifying dives locally at Miracle waters or either Sodwana Bay, Aliwal Shoal or Mozambique, these costs will vary as the dives and accommodation packages differ. (Contact us to see what specials we have running or what international trips are planned for the time you would like to qualify).
For the pool dives we will supply you with soft gear and Hard gear. By the time you are ready to do your qualifying dives you would have learned and been advised on proper quality gear. Your instructor will gladly assist you in choosing your basic gear ensuring comfort and fit for purpose. On qualifying dives soft gear is NOT included in the price but may be hired for the duration of the dives.
Soft gear consists of – Mask, snorkel, fins, wetsuit, weight belt and weights. This will be the first dive equipment you will own, spit in your OWN mask and wee in your OWN wetsuit!
Hard gear consists of – BCD, Reg and Cylinder - The good stuff but not cheap and should not be bought with price as the only criteria! - Regulators differ wildly in price due the performance characteristics in breathing resistance and air flow. Talk to our knowledgeable staff to guide you.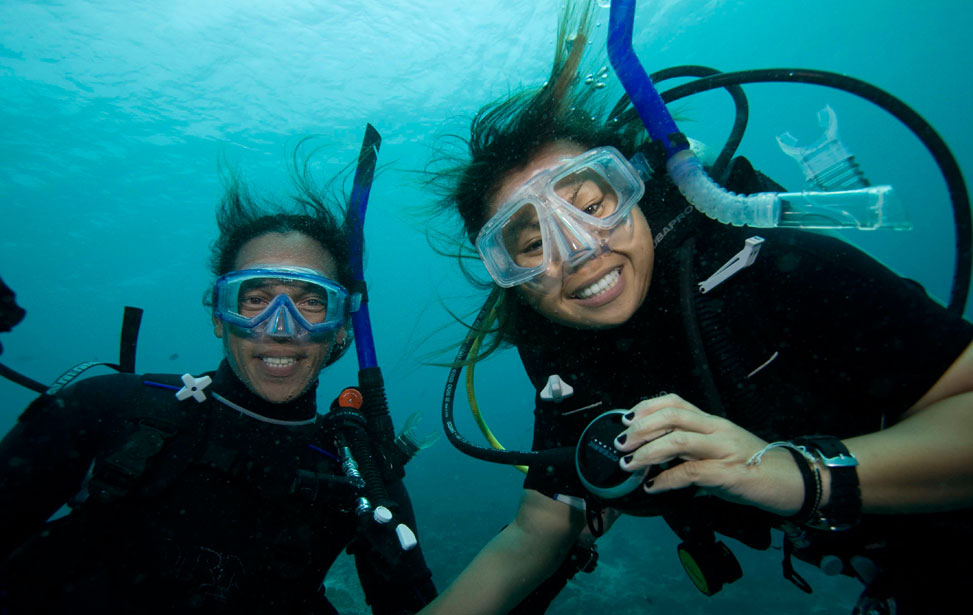 What will I do?
Throughout the course, you will learn the fundamentals of scuba diving, including dive equipment care and setup, scuba diving tips and techniques, safety protocols and emergency drills. You earn this rating by completing five pool dives, five knowledge development sessions and by completing four open water (ocean or lake) dives, completing the necessary skill on each dive.
PLEASE NOTE – We need two days' notice should you need to reschedule your training, if not a cancelation fee will be charged.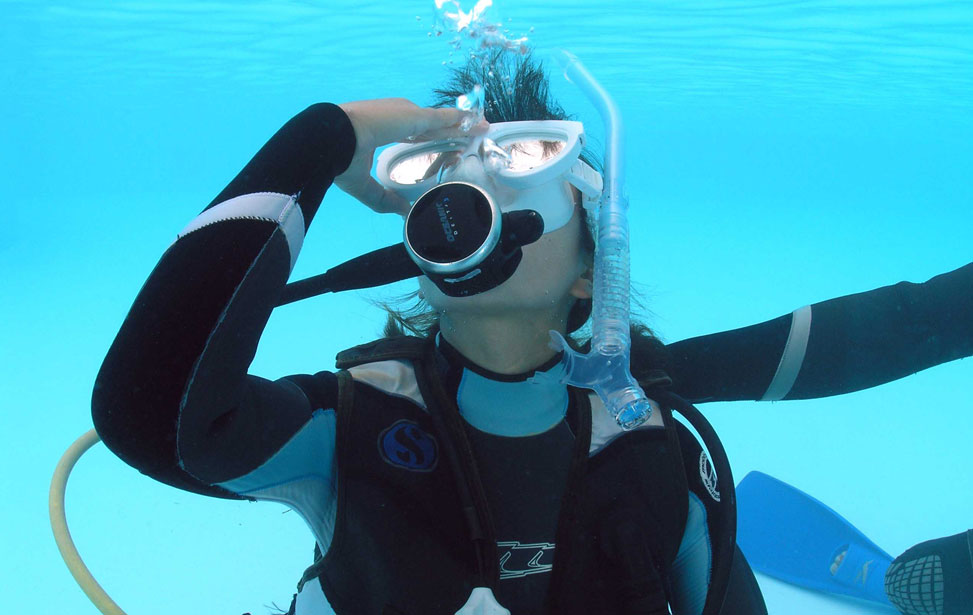 Where can I go from here?
Continue your adventure with PADI's Advanced Course, the next step in exploring the underwater world!
Interested? Have a question or two? Have a look at our course dates. Get in touch and have a cup of coffee and a nice chat with one of our friendly instructors.
Check out our travel website to see where we are going next and maybe jump on board for an unforgettable experience and a chance to put your new found skills to practice!
Need a bit of convincing? Sign up to our newsletter to keep up to date with all of our endeavors and get a first-hand look at all the wonders of the underwater world!
PREREQUISITES:
COURSE CONTENT:
Theory Review

5 Pool Dives

4 Open Water Dives

Exam
Equipment Required: